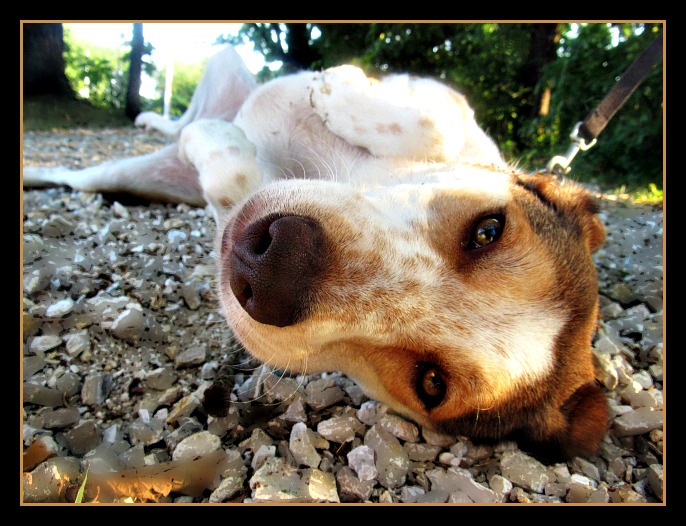 Dierdre
My siblings and I were found in a brush pile, clinging to each other and to life.  People threatened to shoot us, but a nice neighbor brought us to Dogwood, where we would be cared for and safe.  My sibs have been adopted, but no one has picked me, maybe because I'm so shy.  I make up for shyness by how smart I am; I graduated with honors from the Pups for Parole Program!  Come meet me and fall in love.  Ask for Deirdre, the 1 year, 8 month old lovable, belly rubbing Australian cattle dog and blue healer mix gal.  I'm waiting patiently for you!!!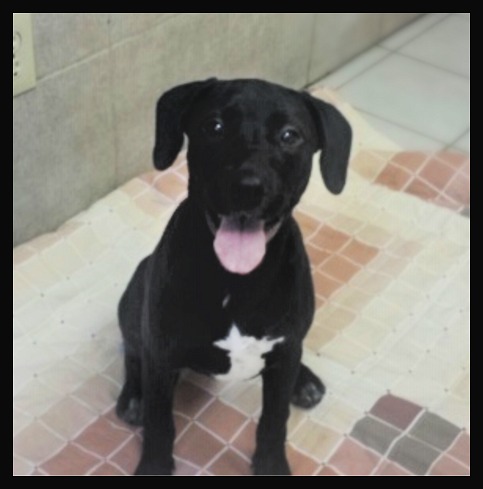 Gabby
If you're looking for an activities partner to jog, play fetch, catch frisbees or just hang out with, I just might be the gal for you. 
Hi, my name is Gabby and I'm a beautiful black and white, lab mix.  I'm not sure what I'm supposed to be mixed with, but I think I'm two-parts energy and one-part affection!  And, I'm 100% adoptable!
I think I'm adorable but, if you prefer blonds, brunettes or redheads, the shelter has a few of those, too!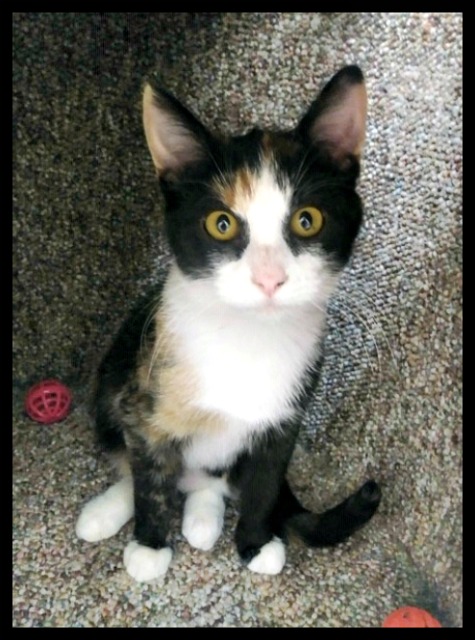 Cali
And the A-CAT-EMY Award goes to . . . .
 Miss Cali!!
If Autumn is your favorite time of the year,  then Cali may just be the purr-fect cat choice for you!
She sports a colorful and very soft coat of all the fall colors!
Cali is a five month old  female kitten who's as sweet as Pumpkin Pie!  
If you would like to meet Cali or any of her furry friends, please stop in at the shelter – she'll be waiting for your visit!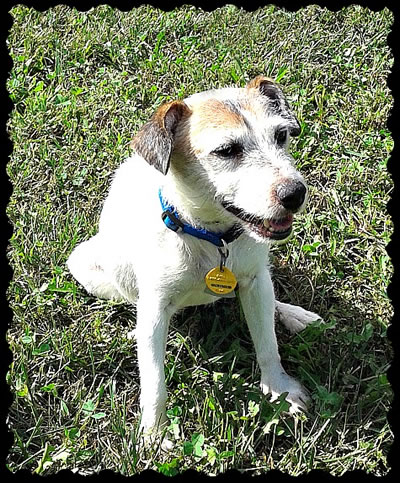 Brownie
My face may be white but my heart is pure gold!
For being a small, ten year old Jack Russell, the good folks at Dogwood Animal Shelter say I pack a lot of love!
I was surrendered to Dogwood Animal Shelter this month because my owners had to move and were unable to take me with them.
I get along great with other dogs and cats but I think I would enjoy being the only fur-baby in the house, just because I deserve to have all  your attention!
I'm pretty laid back and easy-going and would enjoy just hanging out with a special person of my own.
I'd love to meet you, so come on in to the shelter and ask for BROWNIE!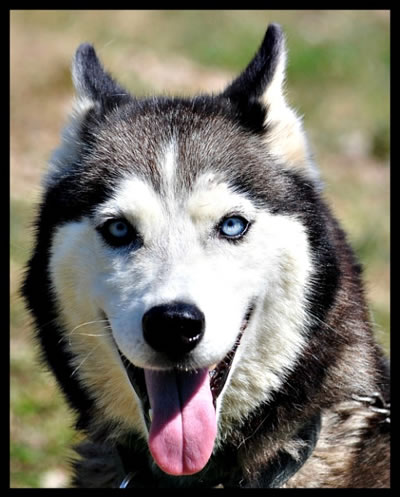 Flurry
THANK YOU EVERYONE for your donations and well wishes!
We are pleased to announce that since coming to the shelter 6/28/18 after much LOVE AND CARE, I am ready for my forever home.
The surgeon did an excellent job repairing my broken leg and I am happy to say, it was a success! I have mended from being shot by a BB gun and my bite wounds on my neck and leg are all but a bad memory.
I am looking for a great home with no cats and LOTS OF LOVE AND ATTENTION.  I admit, I'm easily distracted by small animals such as squirrels and can easily get away from a human, so a fenced yard is a must.
I am a three year old Husky waiting to meet you.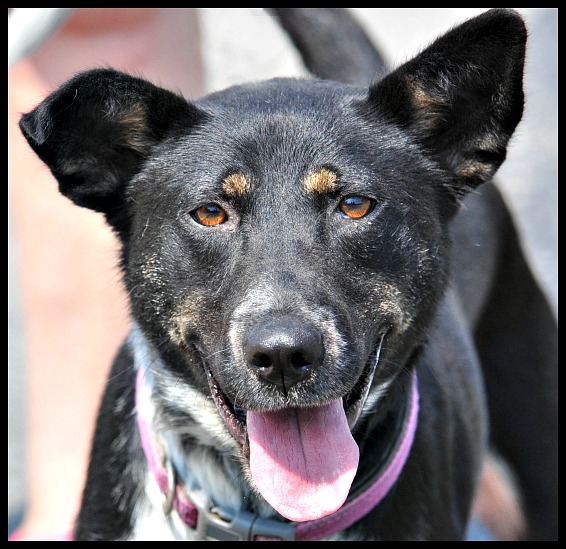 Grace
Amazing Grace…How Sweet I AM!!

Some very nice people found me in the state park on July 23, 2018 and brought me to Dogwood Animal Shelter where they knew I would be taken care of. At 19 months old, I'm a great age for an active family who would like to take me on walks. I'm a German/Australian Shepard Mix — I think that's why I'm so smart! I may be a little shy at first, but warm up quickly! I love belly rubs, attention and going on walks. And I'm here at the shelter waiting to meet you! Just ask for GRACE!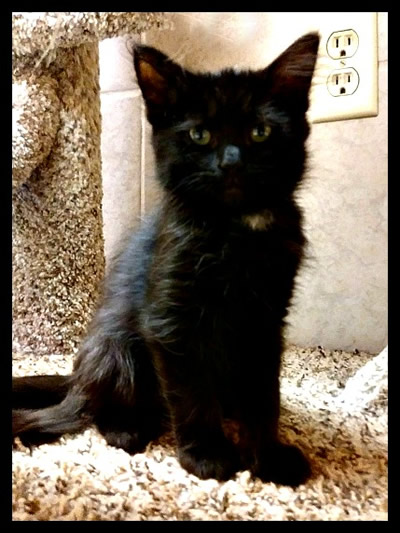 Rayne
Classy. Elegant. Versatile. And always in fashion — that's me, RAYNE!
I may only be 4 months old but I already have a "black belt" in cuddling. Go ahead—look deep into my eyezzz and tell me you'll love me furr-ever! I was found as a stray on a rainy day in Spring so I think my name fits me purrrrfectly! You can meet me and my other feline friends at Dogwood Animal Shelter—just stop in and ask for me, RAYNE!
With APPROVED Application, ALL cat and Kittens are now $10.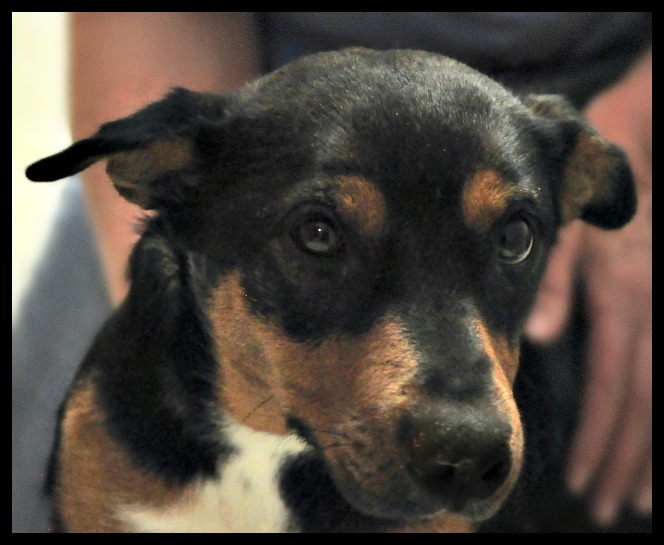 Dolly
Miracles do happen! I was found in the woods in Tuscumbia, Mo in December 2017. I'm a little terrier mix with short hair, so I was literally frozen when I came to the shelter – and very hungry too!
Dogwood's staff and volunteers took excellent care of me during my lengthy recovery.  Then the most wonderful person fostered me!  And now I'm back – happy, healthy and waiting patiently for my fur-ever home!
My name is Dolly and I get along great with all the other dogs here.  I'm always excited to meet new visitors and will do a spin or two for you!  I'm a very sweet girl!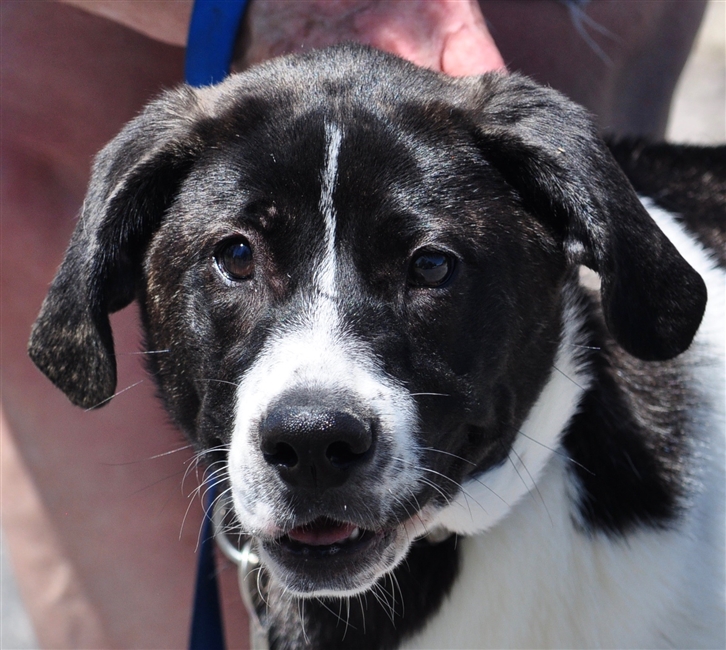 Sierra
I'm a little charmer and not afraid to show you!
Not only am I a very smart girl but I'm also mature for my age! I like to keep my kennel clean and already know how to sit at 8 months old!
My favorite thing to do is to go outside and play with the other dogs – I just love that part of the day!  What I want more than anything is to have a loving family to call my own. An active family who will play fetch with me and take me on walks would be great but I think I'm perfect for most any family! Stop by and visit me and my MANY puppy and dog friends; ask for SIERRA! That's me!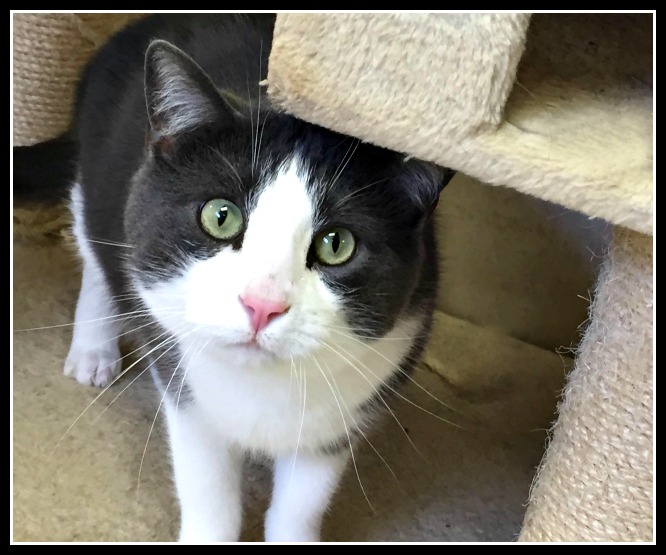 Skywalker
May the force be with you! 
That's what I'm wishin'!  What I'm also wishin' for is a loving fur-ever home!  Name's Skywalker!  Yep!  That's me!  I walk a little funny 'cause I got hurt a couple years back but I'm good to go!  I get along just fine!  Why don't you come and visit me when you get the chance?  I'm here with LOTS of other kitties needing homes!  Maybe you'll have a little room in your home for one of us! – I'm wishin"!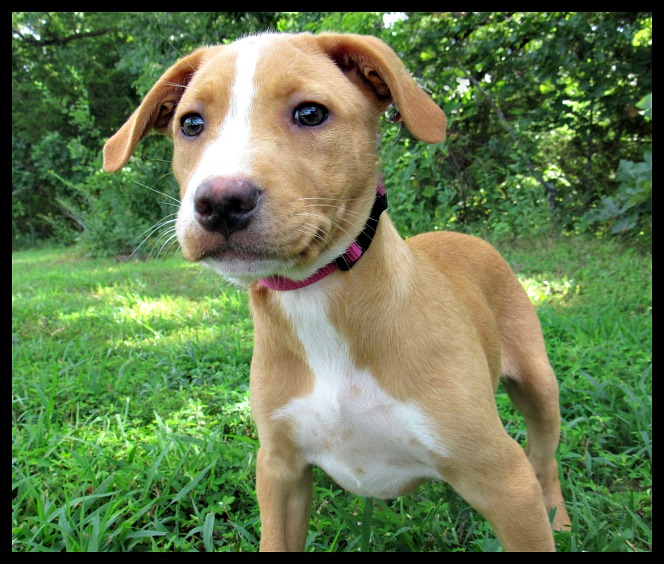 Pansy
SO MANY THINGS TO LOVE!
I love chasing the flutterbys and playing in the sweet grass with my sisters!  Don't know what a couch is, but from what I hear I'll love snuggling on one with my nice, warm human someday too! I'm Pansy. My sisters and I were born here at Dogwood.  We're real anxious to find out what a loving fur-ever home is like! Do you have one for us?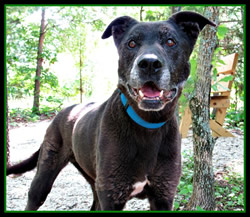 Maycee
Once upon a time, I had a great dad and we were really enjoying life together. My world crashed when he was deployed overseas. I came back to Dogwood where the living is easy and the people are nice. I'm starting to get a little grey now, but I'll never stop dreaming and hoping. I'm very loyal and obedient. I love kids, car rides, soft beds and tummy rubs. I hope to meet you soon!
Love, Maycee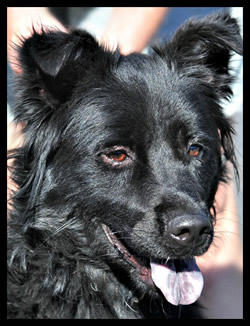 Pippa
You gonna throw a ball? Bet I can catch it! Or, maybe we could go for a walk! I'm good on a leash and like to sniff grass and rocks and stuff! Being a friendly sort of girl, I love to meet people too! You see, I'm a forever kind of dog, looking for a forever kind of home! If you give me a chance, I'd be a really good friend! Promise! Come see me please! Just ask for Pippa!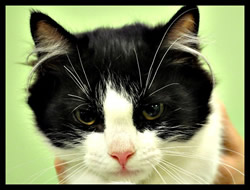 Mist
My name is Mist.
I like to be kissed
Right on my pink little nose!
I'm waiting at Dogwood for a happy new home,
For which I'll be grateful, whiskers to toes!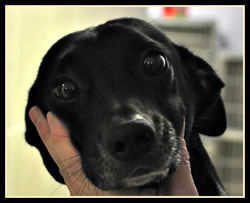 Blackie
Ya gonna kiss me? I sure do love kisses! Belly rubs and ear scratches are pretty great too! I was brought to Dogwood with my babies and took great care of them! Now they're big enough to be on their own and I've got a whole bunch of love left to share with you! I'm ready for a forever family to love! Please come visit! Just ask for Blackie! I'll be here….hoping!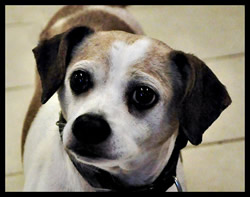 Buddy
I'm glad they told me heaven's a nice place 'cause that's where my owner went. The Dogwood people are taking care of me until I find a new forever home. I'm used to being a good Buddy! I already have lots of friends here, but I want my very own person to love. Could it be YOU? Doesn't matter what size your lap is – I'll make myself fit!
I hope to meet you soon!
Love,
Buddy